Application Services
Our in-depth domain, technical expertise and industry standard quality processes, enable our clients to solve complex problems, mitigate risks and meet their business objectives. Our suite of application development services include:-
Brand new applications/systems development
Major enhancements to existing applications/systems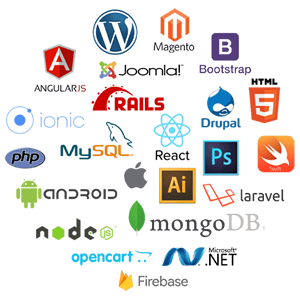 The technology platform for our application development services include:-
Web Technologies (Java, J2EE, ASP, .Net, MVC, Angular 2, Node.js, React.js, Ruby On Rail, Xamarian, ColdFusion, PERL, PHP, Python, Internet Of Thingss(IoT) etc.)

Web Services

Databases (Oracle 9i, PL/SQL, SQL Server, DB2, Teradata, MySQL etc.)

Client Server Technologies (VB, Visual C/C++ etc.)
Cloud Based Enterprise Solution
Application Transformation & Modernization
Customised ERP Solution Development
Cloud based Enterprise Solution:-
---
➤ Cloud is now a true driver to business change, bringing together a range of public and private services, to deliver agility, scalability, simplicity and speed to market.
➤ Businesses today are increasingly recognizing the benefits of the Cloud. We offer:-
Partnered With
---
✔ Leading Cloud Provider.
✔ Includes Amazon Web Services.
✔ Microsoft Azure & Others.
✔ Granular cost control of your infrastructure
✔ The ability to quickly experiment, leading to increased innovation
✔ Opportunities to pilot, test and launch enterprise applications quickly.
✔ Elasticity to instantly scale up and down as your workload grows or changes.
Application Transformation and Modernization
---
➤ Application Transformation services to migrate legacy applications to run on the .Net platform (ASP.Net, C#, VB.Net, SQL Server).
➤ The various steps involved in the completion of the activities are :-
★ Mapping of the application portfolio.
★ Gathering and analyzing business requirements of the legacy system
★ Aligning of the cost in best business value.
★ Designing, Building, Testing and deploying the new or revised solution in alignment with the business need.
Mobile Services:-
---
➤ Our services help organizations understand their business needs in the area of enterprise mobile solutions, mobile applications or mobile as access points for other applications.
★ We work across multiple mobile platforms, frameworks & environments to mobilize business.
★ Mobile application development services spans from idea conceptualization to delivery and aftersales support.
★ High end user interface designers.
★ Believes in On-Time Deployment.
Multiple mobile platforms, frameworks & environments
---
✔ iOS (an operating system from Apple),
✔ Android (Linux based mobile operating system developed by the Open Handset Alliance led by Google).
✔ Windows Phone (A successor to Windows Mobile platform, Windows Phone, is a mobile operating system launched by Microsoft in late 2010.)
Business apps development
Mobile website development
Consumer apps development
Customized Enterprise Solution Development:-
---
➤ Full life-cycle services to design and develop high quality custom applications.
➤ Delivering new business value and capabilities utilizing a robust set of methodologies, frameworks, industry accelerators and software assets.
➤ Our services cover a range of architectures, technologies, platforms and devices.
➤ Enterprise Resource Planning-ERP(custom developed software systems)which includes service offerings as through its cloud/server based methodologies.
OUR SPECIALITIES
---
✔ Customized application development for a web portal already in place.
✔ Flexible and effective Content Management.
✔ User friendliness.
✔ Friendliness with SEO/SMO.
✔ Cost effectiveness.
✔ 24*7 customer support.
✔ EMS(Equipment Management System)
✔ HRMS(Human Resource Management System)
✔ CRM (Customer Relationship Management)
✔ Document management system
✔ Material Management
✔ Project Management
✔ Procurement Process
✔ Work Order & Billing
✔ Accounting Module
✔ Production Process
✔ Responsibility Management
Web site & Web Portals:-
---
➤ A web portal is actually a highly beneficial entry point to the World Wide Web for both individuals and enterprises.
★ We develop dynamic, interactive, eye-catching business portals, corporate portals or any in the list.
★ We provide complete web development services to organizations, everything from static HTML websites to enterprise grade complex web applications.
★ We have very feasible and cost-effective Web Development Packages recommended as per the client's requirement.
SQL Server Consultancy:-
---
➤ We help in Creating, Administering, and Performance Tuning of Customized Microsoft SQL Server database solutions for any size of business. As SQL Server consultants, we deliver efficiency-enhancing SQL Server database solutions, which includes:-
★ SQL Server database administration.
★ Performance Tuning.
★ SQL Server Heath Checkups.
★ Database problem-solving combined with an understanding of business goals and effective project management.
★ Emergency Support/Onsite Support.
★ Easy Database Migration.
★ Highly Effective Recovery Process in Place in case of any disaster.